Changes to patient visiting times during COVID-19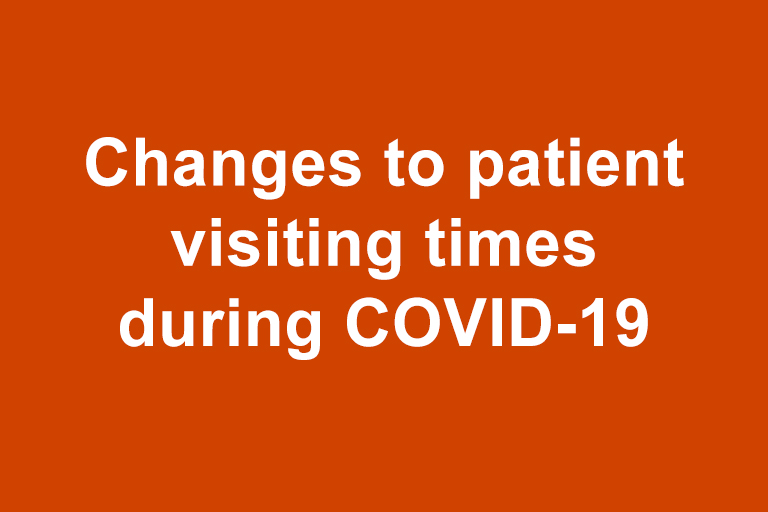 New visiting arrangements during COVID-19
To help us keep everyone safe visiting times are restricted to 8am to 8pm with a rest period (no visitors) between 1pm to 3pm.
We must always adhere to physical distancing requirements. Please check with your ward team about how the restrictions apply to you.
Please do not visit if you have:
a fever or a cold or a flu-like illness, including symptoms such as sore throat, cough, fatigue and difficulty breathing
travelled outside Australia and are therefore required to self-isolate for 14 days after date of return to Australia; and/or
been in contact with a confirmed case of coronavirus and are therefore required to self-isolate for 14 days
When visiting please:
Wash hands often with soap and water, or hand sanitiser.
Keep a safe distance between yourself and others and refrain from physical contact.
Hospital visits on compassionate/medical grounds
If you are entering Western Australia under an exemption and have been granted permission on compassionate grounds to visit a patient in hospital within your quarantine period, you must phone ahead to the hospital to arrange this visit to ensure it is managed appropriately.
WHY? Precautions need to be put in place to protect staff and patients while you attend the hospital.
WA's current travel restrictions are designed to prevent the spread of COVID-19 by limiting non-essential travel. This includes requiring approval to enter the State and a requirement to self-quarantine for 14 days – in case you are unknowingly carrying the COVID-19 virus.
If you are in self-quarantine you cannot undergo elective surgery. Contact the hospital to reschedule your surgery for when you are cleared from quarantine.
It is an offence to fail to follow the directions stipulated in your exemption. WA Police have the power to enforce these restrictions and you can be fined up to $50,000.