Simulation Centre
The Sir Charles Gairdner Hospital Simulation Centre is a high-fidelity simulation suite with video recording facilities and debriefing rooms. It is an educational facility at North Metropolitan Health Service for medium to high-fidelity simulation courses.
The ethos of the SCGH Simulation Centre is to provide high quality medical simulation for health professionals to improve patient safety and clinical standards in medicine. We aim to encourage inter-professional training across Perth to improve teamwork and collaboration across disciplines.
SCGH Simulation Centre Courses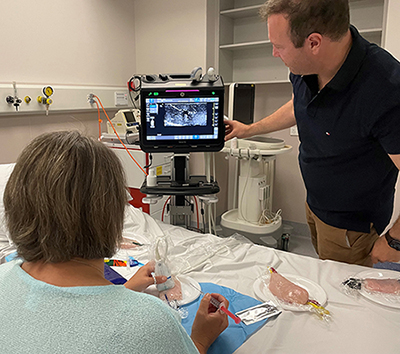 Advanced Life Support (ALS) and Cardiac ALS (CALS) Courses
Advanced Simulation Instructors Course (SIMAC)
Airway management workshops
ANZCA Educators Course
ANZCA Emergency Response CPD Workshops – CICO and ALS
Basic Assessment and Support in Intensive Care (BASIC)
Basic Echocardiography Life Support Course
CRASH course – Critical care, resuscitation and airway skills in high fidelity simulation
ECMO training day
Interprofessional team training
Medical Emergency Team Training
Operating Theatre crisis management
Readiness for the Initial Assessment of Competency Assessment (RIACT)
SAMAP Code Black training
Simulation Technician course
STAR course – Skills training for Anaesthetic Residents
Surgical Skills workshops
Trauma Nursing Core Course
Trauma team training
Ultrasound guided cannulation
SCGH Simulation Centre Facilities
Lecture room - capacity 50 people
SimCapture audio and camera recording capability
Two debriefing rooms
Two high fidelity Simulation suites with control rooms and camera/AV facilities
Two skills rooms
Please contact us to discuss options for running simulation courses at the centre.
For enquiries regarding costs and booking the centre, please use the booking form (Word) and send to scghsimcentre@health.wa.gov.au.