Speech Pathology at SCGH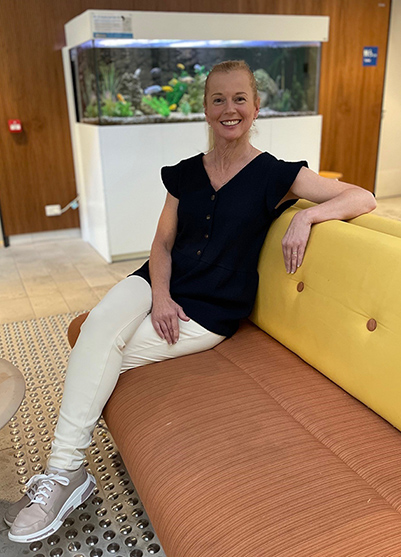 The busy speech pathology team at SCGH sees more than 250 patients a month across a full spectrum from emergency and critical care to outpatients and everything in between. Debilitating communication and swallowing disorders are especially prevalent in certain cancers, neurology and aged care and people of every age and background come through their doors for life-changing therapies.
The theme for Speech Pathology Week 2021 was 'Communication is everyone's right' and no one can identify with this more than 57-year-old teacher's assistant Anita Woodall who lost her voice completely almost a year ago without any noticeable symptoms.
"Over about one week my voice faded to a whisper, and with a couple of short spells of my voice coming and going, I whispered consistently for about five months," said Anita.
"No one realises how noisy the world is until you have to 'compete' for your own voice to be heard.
"Shops are noisy with people chatting and music playing, and getting help was so difficult and isolating."
Anita used a microphone to work with the primary-aged children at her school and said they adapted to be quiet with her and showed incredible empathy.
After some medical appointments that offered limited results, Anita found the Australian Dysphonia Network which lead her to SCGH ENT Consultant Peter Friedland and SCGH voice therapist Kate Baumwol. Together they diagnosed abductor spasmodic dysphonia which meant that her vocal chords spasmed much of the time causing the vocal folds to open, hence not vibrating and therefore affecting speech.
The best news was that the treatment was simple; one targeted botox injection into the spasming area, and Anita now has a normal voice. She will require periodical botox injections to maintain her voice stability but she is so relieved to have a solution.
"It's a horrible feeling; it's like being cocooned in a silent bubble and it's scary," said Anita.
"Now I feel like myself again and it's wonderful."