Be Bowel Aware in June and know your normal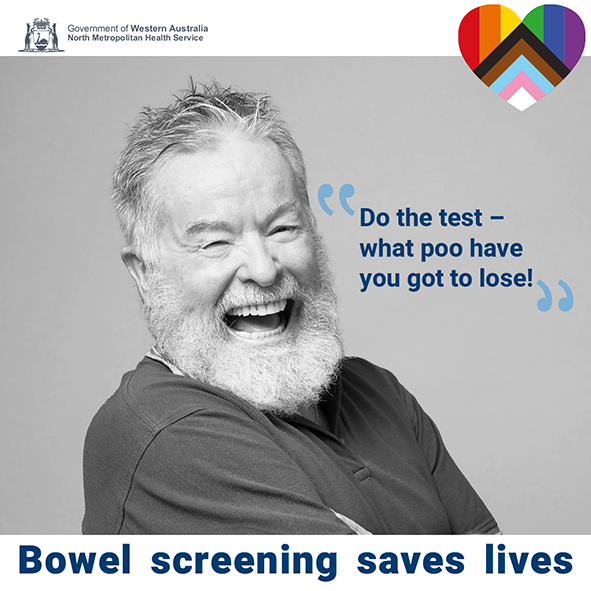 June is Bowel Cancer Awareness month and the WA Cancer and Palliative Care Network Clinical Implementation Unit (WACPCN CIU) team who support the National Bowel Cancer Screening Program (NBCSP) in WA is reminding everyone to 'know your normal' when it comes to your bowel health.
Everyone is encouraged to know what your regular bowel habits are and act on any changes:
Having a positive result on your poo screening test (Faecal Occult Blood Test - FOBT) or bleeding from your bottom or seeing blood in your poo
Changes in your bowel habits (diarrhoea/loose poo or constipation/blocked up) for more than 4 weeks
Weight loss for no reason
Tired for no reason
Pain or a lump in your tummy
Clinical Lead and SCGH Gastroenterologist, Dr Hooi Ee, says "Knowing your regular habits and speaking with your GP if you notice changes is important, particularly for those under 50. If you're aged between 50-74 years, then do your free NBCSP kit when it arrives".
"The NBCSP has been shown to save lives", said Dr Ee. "Cancers detected through the NBCSP are found at a significantly earlier stage than in those who present with symptoms, thus substantially improving the chances of cure".
"NBCSP participation in WA is around 46%, which is higher than the national average, but clearly has room for improvement," says Kathleen O'Connor, Manager Data and Screening Strategy with the WACPCN CIU. "June is the national promotion month for bowel awareness, and we encourage anyone with their kit at home to complete it and for those not yet eligible for the NBCSP, it's important to remain bowel aware and act when things don't feel right."
Eligible Australians aged 50-74 years will receive their free FOBT kit in the mail every two years through the NBCSP. The FOBT detects invisible traces of blood in your poo, which can indicate changes in your bowel that you cannot see or feel and may need investigating. Completing the FOBT test is quick and easy!
For more information on the National Bowel Cancer Screening Program visit www.cancerscreening.gov.au (external site) or call 1800 627 701.