Congratulations Mia Ballard, Lorraine Johnson Preceptor Award winner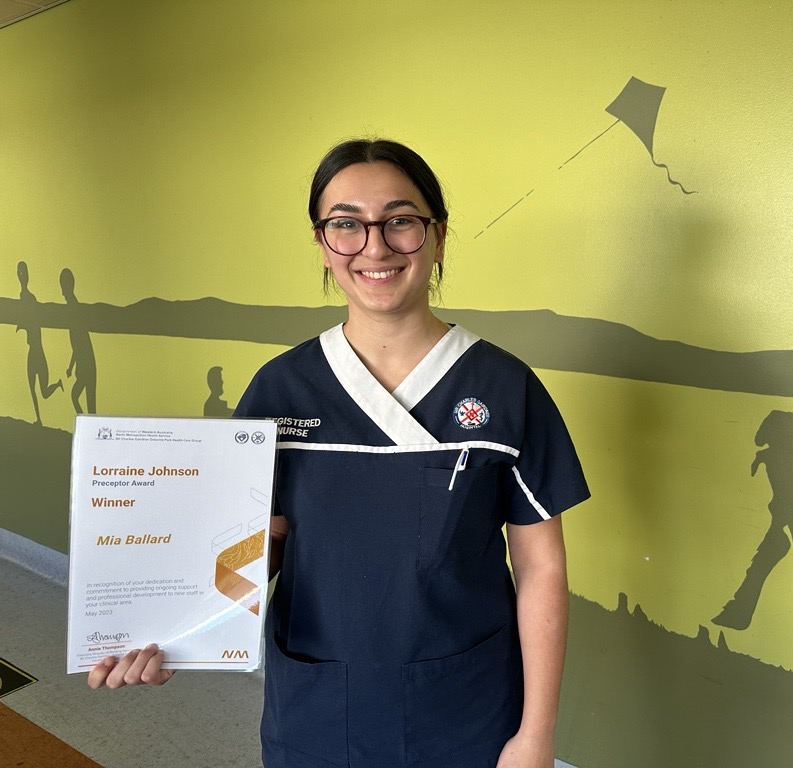 Mia Ballard, Lorraine Johnson Preceptor Award winner
Congratulations to the winner of the 2023 Lorraine Johnson Preceptor Award, Mia Ballard.
Mia was presented with her award by Executive Director of Nursing Annie Thompson, at a special celebration at Sir Charles Gairdner Hospital on 9 May, 2023 as part of International Nurses Day celebrations.
The Lorraine Johnson Preceptor award is given to the nurse who displays the attributes and skills considered invaluable in providing education and support to students and newly graduated nursing staff.
The award is named after Lorraine Johnson who worked for many years as the Graduate Nurse Program Coordinator at SCGH and sadly passed away in September 2006.
Lorraine had extensive teaching experience and was instrumental in providing ongoing support to students and graduated nursing staff. Lorraine's family members, Nigel and Fiona Johnson were special guests at the event and congratulated all finalists as well as Mia on her achievement.
Mia was recognised for going above and beyond in the level of support she offered to those she was guiding as a preceptor. She created a welcome pack for her students and newly qualified nurses and also arranged a cardiac education session and role play activities to support their further learning. The students she worked with said she was encouraging and ensured their learning outcomes were met.
Mia said remembering her experience as a student on the coronary ward, just starting out, helped her to understand how to provide the best possible support for those she was guiding.
"This was the same ward that I had come to as a student, so I knew it may be overwhelming for them to start with", said Mia.
"The support I received as a student helped me to become what I am today. I wanted to set expectations about what might happen and provide some extra heart education.
"It's quite a rewarding job to see them when they first come in and to then watch them grow and become more confident in themselves."
All guests at the Lorraine Johnson Preceptor Award celebration enjoyed a keynote speech by Sharon Pickles, last year's Olive Anstey Nurse of the Year winner. Sharon shared her journey as a nurse and encouraged the nominees to continue their lifelong learning wherever it takes them.
This year there were 150 nominations received for the Lorraine Johnson Preceptor Award and ten finalists selected. All ten finalists were congratulated on their work in supporting the students and newly qualified nurses. North Metropolitan Health Service Chief Executive Shirley Bowen showed her support to nominees and spoke to attendees following the official presentations.