Celebrating our dedicated staff!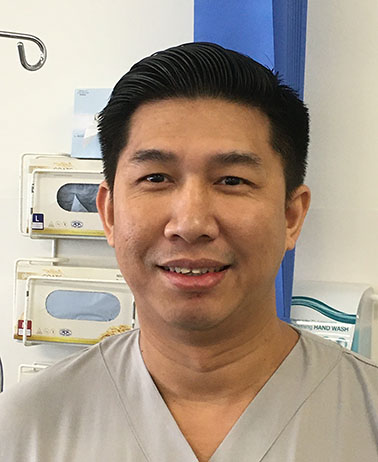 Our SCGOPHCG Employee of the Month Award winner for June is Steven Zawhtut Hospital Services Assistant SCGH.
Steven was nominated by Lynette Rodriguez, Registered Nurse, SCGH who said Steven is a highly valued member of the Plastic Dressing Clinic (PDC) team whose diligence and tireless work ethic make the clinic run smoothly and efficiently.
"In fact, as good as our relief staff are, when Steven has taken leave, his absence is always apparent," Lynette said.
Steven always performs above and beyond the expectations of his role and is well regarded and often asked after by the regular patients and fellow staff working in the clinic.
Steven recently purchased a meal for a homeless patient when hospital food was not available, demonstrating his kind and generous nature. Steven remembers the special needs of our clinic regular patients, preparing in advance when he knows they are scheduled to attend and he is missed by them when not on shift.
Sharon Pratt, HSA Manager fully supported his nomination saying Steven is an exemplary member of the HSA team, with a great work ethic.
He is described as a very caring and compassionate staff member who goes out of his way to connect with and actively demonstrate to patients they are cared for by truly listening, using empathetic language and being dedicated and focused in his responses. Steven is very respectful and engaged in all his interactions with patients and staff. He treats everyone with kindness, courtesy and politeness.
Steven is always positive, calm and confident in himself and continuously strives to provide a high standard patient first service and is a role model for other HSAs.
All patients and staff members are treated with dignity and respect as Steven goes about his workday with a quiet confidence. Steven embodies the hospital values and is an exceptional role model for new staff.
Congratulations Steven, thank you for living our values. You deserve this recognition and we commend you for your dedication and compassion.
Steven and his colleagues will be invited to a catered afternoon tea where he will be presented with a $150 gift voucher from sponsors.
A special thanks to our generous sponsors: HESTA, Paywise, Smartsalary and StatePlus.
If you've had a great experience with one of our staff members why not put them forward for an award? Next time you are onsite ask how you can submit a nomination.