Doing what you can to help your fellow man this Movember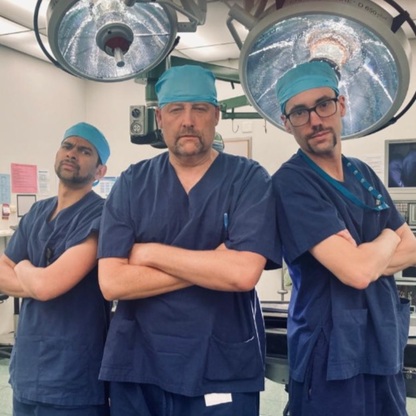 The Colorectal - apologies, 'ColMOrectal' Crew at Charlies, are looking decidedly hairier this month.
Led by captain Matthew Trinder (Registrar), the 14-strong team are growing their 'stache this Movember to raise awareness about men's health.
Supportive comments from donors such as, "I pray this donation will help ensure this unspeakable act will never be repeated" and "May the handlebar have all the glory it deserves. Ignore the naysayers and grow it proud!" are keeping the crew motivated and on track to reaching their goal of raising more than $10,000.
Team members Chris Mitchell (Anaesthetic Consultant), Rupert Hodder (Consultant, General Surgery), Michael Warner (Consultant, General Surgery), Hasitha Balasuriya (Fellow, General Surgery), James Cohen (Intern, General Surgery), Daniel Magee (Registrar, General Surgery), Cap Stirling (real name – Leigh Archer, UGI Surgery Fellow), Andrew Coveney (Consultant, General Surgery), Dave Hudson (Registrar, General Surgery), Henry Wood, Louis Connell (Registrar, General Surgery), Jonathan Tan (RMO, Colorectal), and Peter Rogers (Registrar, General Surgery), all thank you for your support and for donating to a cause that is close to their heart.
Hasitha's reason for participating is on point: "Now a Dad to a wee Mo Bro. Stakes are much higher, so on top of raising awareness, I'm pledging to stay active and eat well this month. You should too! Mental illness does not discriminate. Any of us can get affected at any point of our life. Ask your mate if they're OK. Men's health rarely scores a mention in the paper, nor the pub. Check your nuts, get a rectal exam, keep active, and eat well."
To view each team members' motivation for participating in Movember and to donate, visit the Movember website (external site).
Monies raised will be used by the Movember organisation to fund men's health projects in 20 countries that target mental health and suicide prevention, and raise awareness of prostate and testicular cancer.