Celebrating our dedicated staff!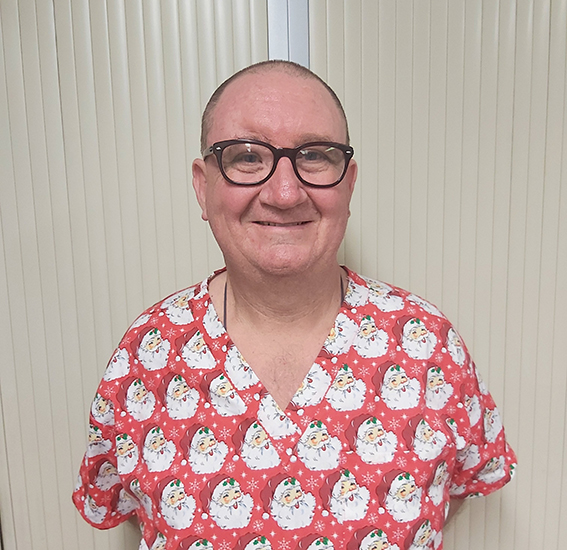 Congratulations Edward Davey, our October SCGH Employee of the Month Award winner.
Meet our October SCGH Employee of the Month Award winner, Edward Davey, Cleaner in the Neurology, Outpatients, and Level 1 E Block areas.
Edward was nominated by Jo Stewart, Neurophysiology Technologist, who says Eddie is one of those amazing people who doesn't seek praise, or recognition for his work, but he deserves it.
"I'd very much like for Eddie to know that his vital contribution to our team is both seen and valued by all of us. Eddie genuinely seems to care about our team, and his contributions enact the NMHS values that we all strive to demonstrate on a daily basis," said Jo.
Eddie not only completes his cleaning jobs to an exceptionally high standard, which is especially important during these COVID times, he also consistently take steps to complete tasks that go outside his cleaning responsibilities in the departments.
Eddie goes to great lengths to communicate and work closely with nursing, clerical and neurophysiology technologists to ensure that faulty or broken items are reported so they can be repaired, that hand cleaning stations are always refilled and operational, and that furniture is clean for patients to sit on while waiting for their appointment.
Where some staff may walk past and turn a blind eye to issues, Eddie does not. These anecdotes from staff across the Neurology team are examples of the significant, positive difference Eddie makes to the team:
"Eddie let me know I had to put in an Empac work request for a loose tile in the kitchen. When the handyman came and I mentioned Eddie, he laughed and said he was doing jobs all over E Block that Eddie had flagged. Eddie's attention to detail, communication, and proactiveness in managing risk really supports and helps all of our team to stay safe, and deliver the best service to patients."
"The other day I came in and realised my oats had leaked in my bag, when I put them onto my desk I had milk dripping everywhere. I got up to get some tissues to clean the mess, and when I returned, Eddie had come in and cleaned it all for me, without me or anyone asking him to. I always see him going above and beyond in our department."
Eddie embodies all aspects of the NMHS values in the proactive, positive, open way he approaches interactions with staff, the high level of attention to detail in his work, and his willingness to go above and beyond his role to ensure the safety and wellbeing of everyone in the Neurology area.
Congratulations Eddie, you deserve this recognition! Your cheerful morning greetings and caring acts of kindness go a long way toward making many people in the Neurology department feel valued and supported.
Eddie and his colleagues will be invited to a catered afternoon tea where he will be presented with a $150 gift voucher from our sponsors.
A special thanks to our generous sponsors: HESTA, Paywise, Smartsalary and Aware Super.
If you've had a great experience with one of our staff members why not put them forward for an award? Next time you are onsite ask how you can submit a nomination.