New ultrasound development assists patients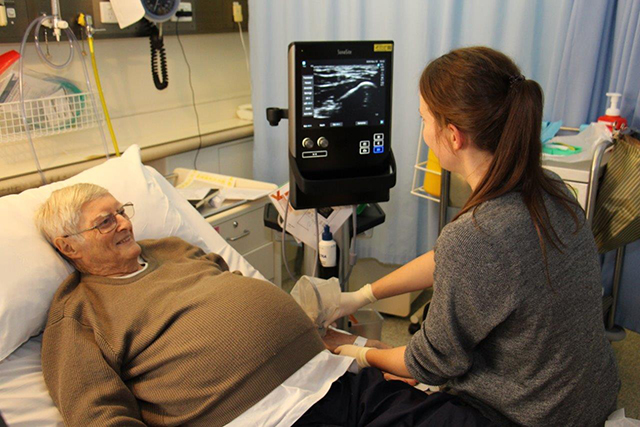 A recent Innovative Future (IF) Project – Improving pathways for patients with difficult IV access: formalising escalation and access to ultrasound – is already benefitting patients at Sir Charles Gairdner Hospital. The project aims to reduce treatment delays for patients with difficult IV access (particularly after hours), and after just a few short months of planning and preparation it has come to fruition!
Three new ultrasound machines dedicated to inserting difficult cannulas are now available next to the defibrillator and ECG machine between wards G51/53, G61/63 and G71/73, thanks to the dedicated project team led by RMO Thisuri Jayawardena. The ultrasound machines are owned by the Charlie's After-hours Team (CAT) service.
The project and ultrasound machines were approved by the IF Program Board following significant feedback from medical and nursing staff, as well as clinical data that showed high numbers of attempts and extensive time delays in obtaining venous access for patients with difficult anatomy and peripheral shutdown.
A new ultrasound-guided IV access education program has also been rolled out by the ED ultrasound consultant team and Postgraduate Medical Education Unit.