WA's unique Asbestos Review Program celebrates its 5000th participant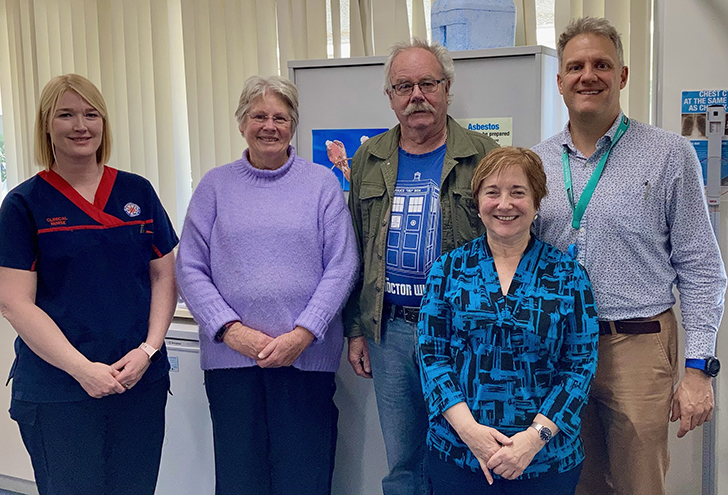 Thirty years ago, in response to increasing concern over the health of thousands of WA workers and families after exposure to asbestos dust, a world-unique program was established in WA.
Last year, the Asbestos Review Program celebrated its 30th anniversary; this year, it celebrates its 5000th participant.
The Asbestos Review Program (ARP) looks after people who have worked with or been exposed to asbestos, seeing nearly 2000 people per year and is based in the Respiratory Department at Sir Charles Gairdner Hospital.
During this time the ARP has performed more than 29,000 chest x-rays, 11,500 CT scans, 45,000 blood tests and 49,000 lung function tests.
Prof Fraser Brims, Head of the Respiratory Department and Director of the ARP, said the ARP has pioneered modern technology in recent years with ultra-low dose CT scans to detect lung cancer at an early stage, when it can be successfully treated.
"Detecting and treating lung cancers at an early stage has changed the lives of many ARP participants. We can now finally offer some hope for people exposed to asbestos, this technology is a game-changer for WA," said Prof Brims.
Asbestos can cause different diseases in the chest including lung cancer, a cancer of the lining of the lung called mesothelioma and scarring of the lung tissue (asbestosis). Research from the ARP has changed the understanding across the world of why and how asbestos causes illness and this knowledge has changed the lives of many thousands of individuals as a result.
In the late 1980s Prof Bill Musk AM and Prof Nick de Klerk collaborated with UWA and the WA Department of Health to establish the health surveillance program, designed to look after thousands of people exposed to asbestos in WA. This was initially the Wittenoom miners and families, but the program quickly expanded to accept tradesmen and others exposed to asbestos at work.
"Last year, we celebrated 30 years of caring for, learning from and supporting our wonderful participants. This year we celebrate our 5000th participant, this is quite a remarkable achievement," Prof Brims said.
The ARP is part of the National Centre for Asbestos Related Diseases (NCARD), funded by the National Health and Medical Research Council, and part of the Institute for Respiratory Health.