Celebrating our dedicated staff!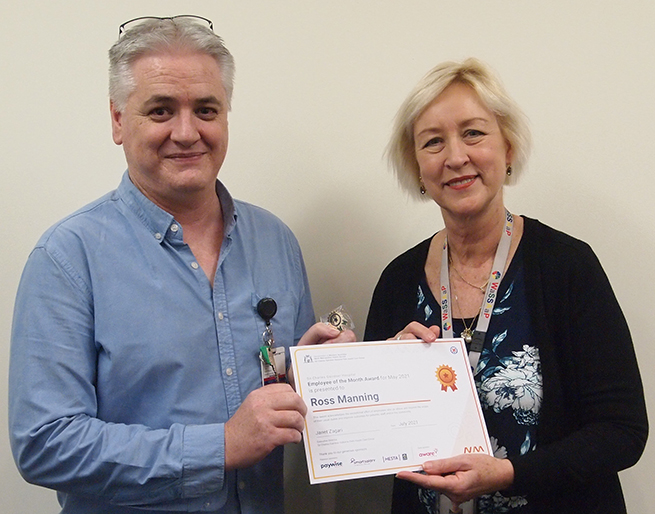 Congratulations to our May Employee of the Month Award winner Ross Manning, Manager General Support Services at Sir Charles Gairdner Hospital (SCGH).
Ross was nominated for this award by Linda Davies, Manager Patient Support Services, who said Ross is an exceptional contributor to the Patient Support Services (PSS) team and is recognised for his value-based leadership and his extraordinary work ethic.
Nothing is too much trouble for Ross and he always puts the needs of others before his own. His role is demanding, particularly considering the challenges COVID-19 has presented and the recent addition of General Support Services at Osborne Park Hospital to his role. Despite this, Ross goes about his work positively and without complaint.
Ross is a role model in the PSS team, always demonstrating commitment and care for our patients and team members. The PSS leadership team and his colleagues strongly support this nomination.
Ross lives the NMHS values every day. His caring nature is demonstrated in all his interactions with those he works with as well as our patients.
Ross is highly respectful of everyone he engages with, both colleagues and patients, and also demonstrates great respect for NMHS and a strong commitment to meeting and exceeding the expectations of our Executive and Board.
Ross' innovative attitude was evident in the work he undertook to support his Manager in aligning PSS at OPH and SCGH, as we embed our one service, two site model. In developing an integrated model of care for the two sites, Ross has focussed on identifying ways to improve efficiency and service quality. This work reflects many of the NMHS strategic priorities, as it is also focussed on developing connections and partnerships, enhancing our organisational culture and improving outcomes for our patients and our community.
Ross is recognised as an authentic team player and is well-known for his high standards of personal and professional integrity.
Congratulations Ross, you truly live the NMHS values and are so well deserving of this recognition.
Ross will receive a $150 gift voucher from sponsors.
A special thanks to our generous sponsors: HESTA, Paywise, Smartsalary and Aware Super.
If you've had a great experience with one of our staff members why not put them forward for an award? Next time you are onsite ask how you can submit a nomination.