Celebrating our dedicated staff!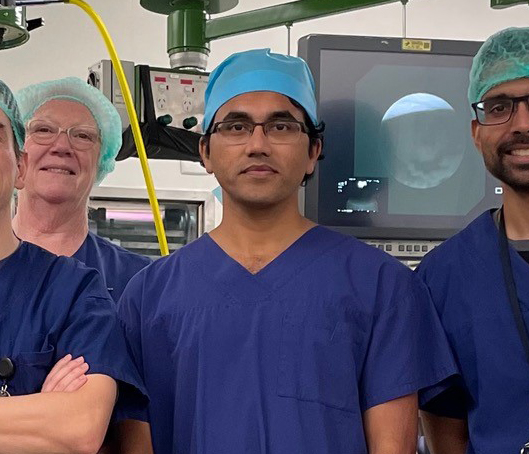 Congratulations to our April Employee of the Month Award winner, Dr Rajesh Thomas, Respiratory Consultant at Sir Charles Gairdner Hospital.
Rajesh was nominated for this award by Professor Fraser Brims on behalf of the SCGH lung cancer team for his dedication to his patients and his exceptional commitment to improving the lung cancer service. Collectively, the multidisciplinary team strongly support Rajesh to be recognised in this way, for his extraordinary care and dedication to his patients.
As the lead for lung cancer at SCGH since 2018, Rajesh has a unique skill set in advanced bronchoscopy and is regularly called in, out of hours for life threatening emergencies from advanced lung cancer. He leads the weekly SCGH lung cancer multidisciplinary team (MDT) meeting with up to 20 patients discussed each week, as well as supervising and mentoring trainees and future specialists.
Rajesh's nomination included many positive comments and compliments from members of the teams he works with.
He was described as the focal point of care of patients with lung cancer at SCGH, who actively promotes better communication and teamwork between all those involved in the weekly MDT meetings promoting excellence by leading through example. His calm demeanour and composed personality has elevated the quality of discussions and he's an asset not only to Department of Respiratory Medicine but also an example for others.
Staff have commented that Rajesh takes a systematic approach with patients, selects the appropriate intervention with a caring and respectful attitude. His care extends across patients of all backgrounds and his guidance of the MDT allows appropriate, gold standard treatment for all lung cancer patients. His interaction with his colleagues is an appropriate combination of professionalism and friendship, and he's a great asset to the hospital.
His nomination stated Rajesh consistently demonstrates unrivalled dedication towards the care and management of patients confronted by the distressing disease of lung cancer. His approach is methodical, thorough, inclusive and he is a superb advocate for his patients.
Rajesh shows dedication to excellence in clinical care and is a collaborative team player always willing to go above and beyond to help colleagues and patients. He is accessible for advice and sees patients at short notice. His patients have also commented about Rajesh's caring manner, professionalism and ability put them at ease in difficult times.
Congratulations Rajesh, you truly live the NMHS values and are so well deserving of this recognition.
Rajesh will receive a $150 gift voucher from our sponsors.
A special thanks to our generous sponsors: HESTA, Paywise, Smartsalary and Aware Super.
If you've had a great experience with one of our staff members why not put them forward for an award? Next time you are onsite ask how you can submit a nomination.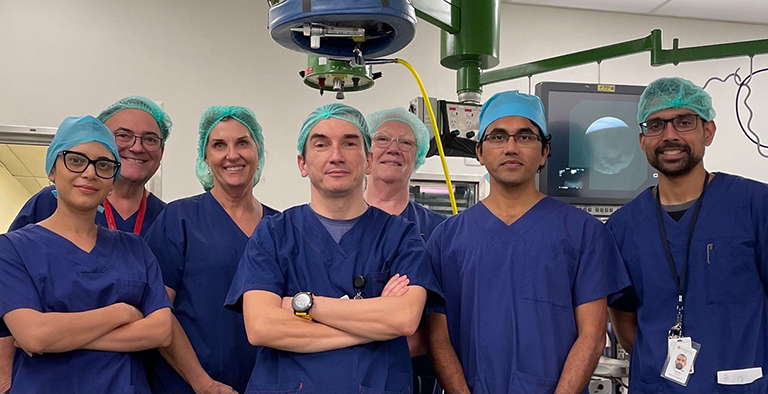 Rajesh with his Lung Cancer and Interventional Bronchoscopy team
(From L-R - Maree Azzopardi, John Crofts, Siobhan Dormer, Adrian Hernest, Sue Morey, Rajesh Thomas and Calvin Sidhu)