Celebrating our dedicated staff!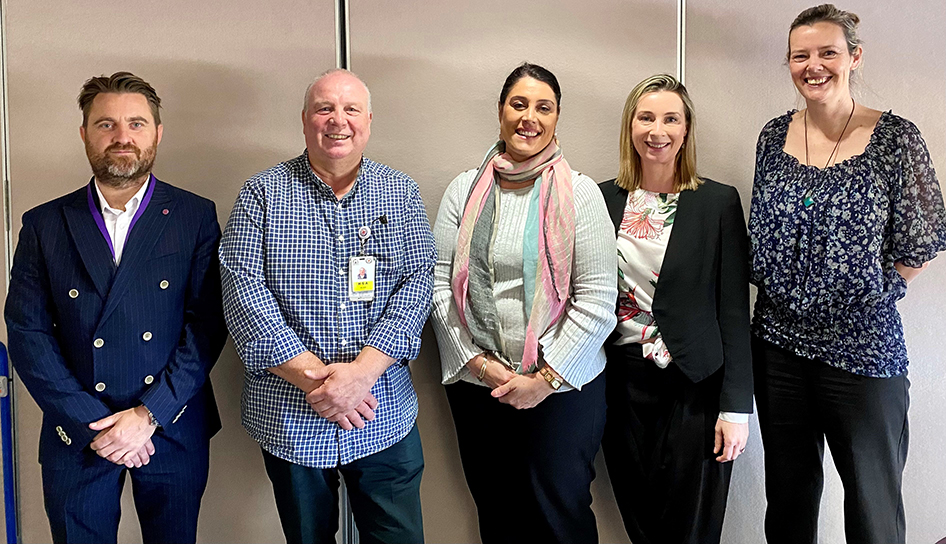 Sponsors Ben, Linda, Bronte and Carla with EOTM winner Aldo
Congratulations to Hospital Support Assistant Aldo Ottaviano, for being named the SCGH Employee of the Month Award winner for June 2021.
Aldo was nominated for this award by his colleague David, also an HSA, who said Aldo is a very caring and helpful man towards his colleagues and patients.
As a new employee working in the ICU at Charlies, David said Aldo was the lead HSA who was fantastic at sharing all his immense knowledge, teaching new starters the correct way to do things and explaining the reasons why - Aldo always ensures staff work safely to protect the patient and themselves.
Aldo dedicates time to make sure his staff are okay and ensures everyone knows what is expected of them. He lives the NMHS values showing genuine concern for his colleagues and gentle care for patients. He is respectful and treats everyone fairly.
Aldo has employed a buddy system for HSAs to work with each other and with nursing staff, to provide the best healthcare outcomes for patients. He works closely with staff using innovative techniques to assist with moving patients safely and with care. He is honest and genuinely wants to do the job well.
Congratulations to Aldo, who is so very deserving of this recognition and a big thank you to David for nominating him.
Aldo and his colleagues celebrated at a morning event today where he was presented with a $150 gift voucher from our sponsors.
A special thanks to our generous sponsors: HESTA, Paywise, Smartsalary and Aware Super.
If you've had a great experience with one of our staff members why not put them forward for an award? Next time you are onsite ask how you can submit a nomination.