Elizabeth Mills - recognised in Sept for 20 years voluntary service with SCGH DAIP Committee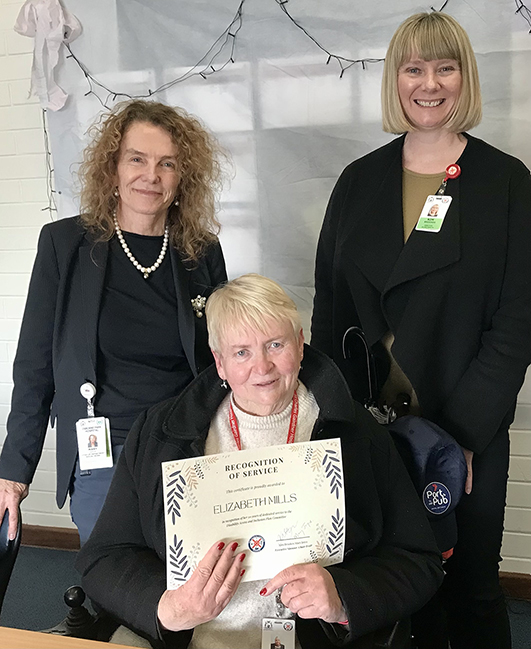 Pictured is Elizabeth Mills (centre), with Social Work Head of Department Mary Joyce and Director Allied Health Kim Brookes.
Disability advocate and Paralympian Elizabeth Mills was recently acknowledged for her twenty years campaigning for disability-friendly access improvements at Sir Charles Gairdner Hospital (SCGH).
Self-identifying as the 'lady of the ramp', Elizabeth Mills provides an invaluable perspective as a consumer representative on the SCGH Disability Access and Inclusion Plan (DAIP) Committee through her lived experience as a person, and patient, with a physical disability.
Over her many years of voluntary service on the DAIP Committee, Elizabeth's feedback has driven many changes, including to the bus stops on the QEII Medical Centre campus, and improvements to disabled toilets.
"I visit several departments as a patient and let the DAIP Committee know if I see a problem. It is gratifying to see that SCGH does listen and makes the necessary changes!" said Elizabeth.
Elizabeth is generous with her time and in 2017 was acknowledged for providing more than 30 years voluntary service to the SCGH Consumer Advisory Council.
Elizabeth's family has a longstanding relationship with SCGH; her mother, Julie Edmondson, was a Social Worker with the hospital and in 2018, Julie bequeathed a donation to the Social Work Department's Patient Welfare Fund to be used for patients requesting assistance.