R U Breast Aware?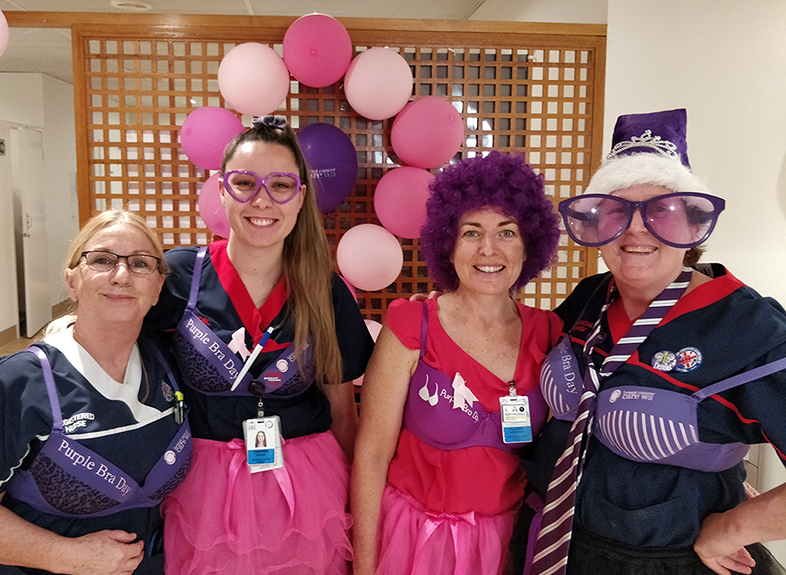 From L to R Michele Collins RN, Tasmin Davis CN, Breast Care Nurse, Claire Henryon CN, Breast Care Nurse and Denise Kiff CN, Breast Care Nurse
The SCGH Breast Centre asked this question last week while they sold raffle tickets, held morning teas along with their breast awareness talks, and circulated 'booby facts' every day to the wider community.
Culminating in Purple Bra Day, the team raised over $1,200 for Breast Cancer Care WA and spread the important word about self-examinations in the process.
"Breast Cancer remains the most common cancer among Australian women (excluding non-melanoma skin cancer)," said CNM Breast Centre Heather Taylor.
"One in eight women will be diagnosed with breast cancer in their lifetime and it is important for women of all ages to do what they can to detect breast cancer early and reduce their risk of breast cancer happening to them."
So what you can do?
Regular breast self-examination.
If you find a breast change unusual for you see your GP.
f you are 45 – 74 attend BreastscreenWA every two years for a mammogram.
Reduce your risk of breast cancer by making healthy lifestyle choices

Be active
Eat well
Limit alcohol
Quit smoking
Minimise Hormone Replacement Therapy.
SCGH sees approximately 400 patients a year who are diagnosed with breast cancer.
Approximately 70% of these patients are detected because they attended Breastscreen WA for a regular mammogram and about 29% will be discovered by the lady examining herself and noticing a change.
"Breast cancer is diagnosed across all age groups; we have ladies in their early 20's through to their 90's and don't forget the men, the numbers are tiny in comparison but they still get breast cancer too," added Heather.