Occupational therapy virtual health trial sees excellent outcomes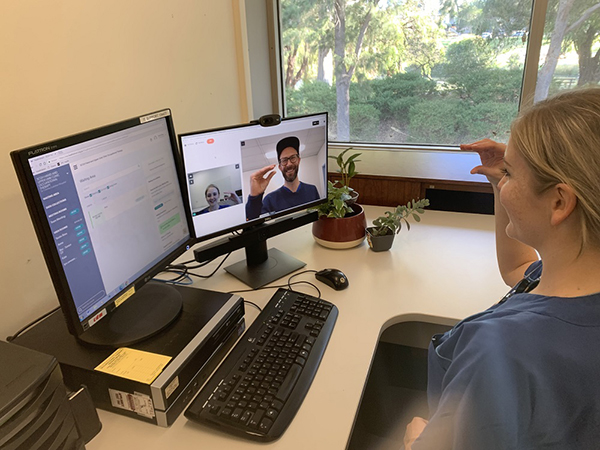 Occupational Therapist carrying out virtual therapy
The Occupational Therapy Department at SCGH embraced the integration of virtual health when COVID restrictions limited patient numbers on site. They also took the opportunity to measure the program's success against a control group, within the Hand and Upper Limb Clinic with patients willingly offering their feedback.
A survey set out to determine the impact of virtual care combined with face-to-face treatment on clinical outcomes, patient satisfaction and service efficiency compared to the traditional face-to-face model of care. The results were excellent overall with satisfaction levels not impacted by the patient receiving less face-to-face sessions.
"102 patients were surveyed throughout the process, with a 50/50 split of on-site vs virtual therapy, with patients having a mean age of 45 and a 55% male skew," explained senior occupational therapist Siân Fitzgerald.
"59% of the group had fractures, and the remaining patients had a mix of tendon ruptures or repairs, dislocations and other general hand and upper limb disorders."
The virtual care patients were provided with a median of three face-to-face sessions supported with two telehealth sessions, compared to five in-person only sessions in the control group. Some notable results are as follows:
90% of patients had the correct equipment to engage in virtual care.
Just 18% needed help in setting up their virtual care sessions, with no correlation with age.
The virtual care group received less therapy time with a median of 165 minutes compared to 190 minutes.
The virtual care group had a longer length of referral to discharge time with a median of 10.9 weeks compared to 8.1 weeks.
More patients attended their appointments and reported high levels of satisfaction with access to virtual care.
Virtual care did not increase adverse patient outcomes.
"Our OT's needed to adjust to this new style of treating patients," added Siân.
"While they were used to a hands-on approach and were unsure how to work with patients via video, they were pleasantly surprised at how well they could describe movements and connect with individuals to make treatments successful.
"We went through a learning process as a team and now feel confident in working with patients virtually going forward, and making decisions based on their presentation via video."
Congratulations to the SCGH OT team for ensuring their patients continued receiving excellent care, and on their positive results.