Stroke treatment pioneer awarded for Excellence in Stroke Care Delivery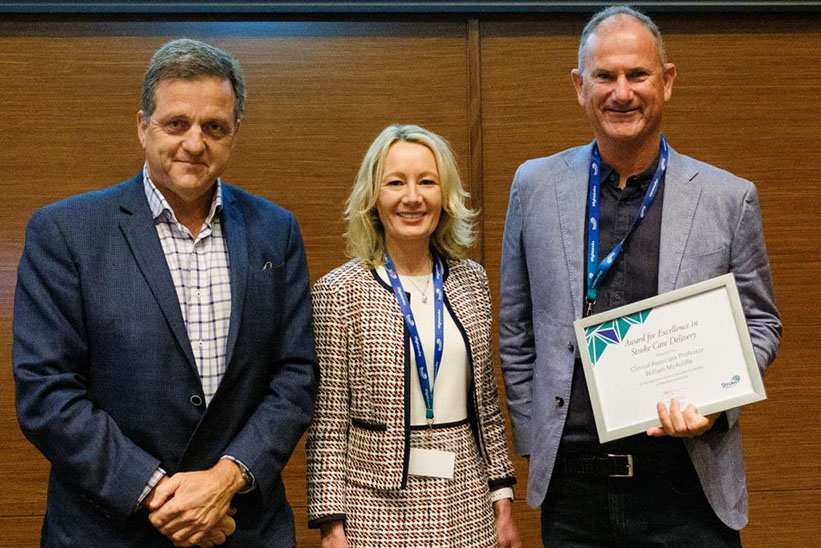 Clinical Associate Professor William McAuliffe, Interventional Neuroradiologist and Deputy Head of Department of the Neurological Intervention and Imaging Service of WA (NIISwa), has been instrumental in developing the state-wide stroke mechanical thrombectomy service in Western Australia and was awarded for his pioneering work at the Stroke Symposium in October this year.
Mechanical thrombectomy is the endovascular removal of a clot that is blocking an artery in the brain causing a stroke. NIISwa provides a 24/7 state-wide mechanical thrombectomy service for Western Australia and Sir Charles Gairdner Hospital (SCGH) is the 24/7 hub for this procedure.
The procedure is time-critical and relies on all teams working together to expedite the patient journey in order to get the best outcome. It requires a highly co-ordinated work-flow that begins with St John Ambulance and the Royal Flying Doctor Service, and in addition to NIISwa, involves the Emergency Department, Medical Imaging, Neurology, Anaesthesia, Intensive Care Unit and other departments.
Will said he is honoured to receive the 2019 Award for Excellence in Stroke Care Delivery and said it speaks volumes about the great team contribution at SCGH - from administration staff to the orderlies and all staff in between, as well as contributions across many different services and departments.
"This award is testament to the great team approach at Charlies and the outstanding work and commitment by my colleagues every day and at every level, that is helping West Australians suffering severe strokes return to their families and livelihoods," said Will.
NIISwa Head of Department Dr Con Phatouros said Western Australia and Victoria have the best developed coordinated state-wide service ensuring all West Australians have acce​​ss to this life-changing procedure no matter what time of day they have their stroke or where they live.
"The service currently performs approximately 300 of these procedures per year and this will result in approximately 100 additional patients having a good outcome from their severe stroke and able to return to work and family than if they didn't get the treatment," said Con.
NIISwa was formed in 2007 as a state neuroradiological service and opened at SCGH in 2008 by the then State Minister for Health and current North Metropolitan Health Service Board Chair Mr Jim McGinty. Dr David Russell-Weisz (Director General of Health) and Dr Robyn Lawrence (CE NMHS) were a major driving force in establishing the 24/7 stat​e stroke thrombectomy service, which commenced in 2017.
The 2018 recipient of the Award was SCGH Head of Department Neurology Dr David Blacker.