SCGH Cardiothoracic Surgeon's ground-breaking technique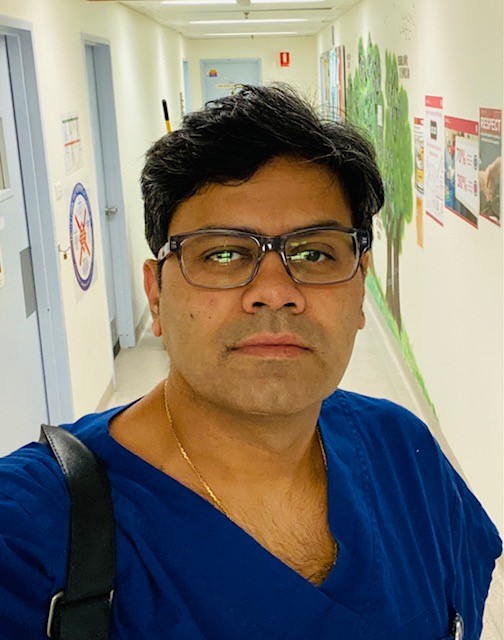 Dr Kaushalendra Singh Rathore, Consultant Cardiothoracic Surgeon at Sir Charles Gairdner Hospital has mastered the Minimally Invasive Direct Coronary Artery Bypass Grafting (MIDCABG) technique.
Multi-vessel Coronary artery bypass is the most common cardiac surgery. Dr Rathore performs all his cases Off Pump Coronary Artery Bypass Grafting (OPCABG), where the patient's heart does not need to be stopped. This practice is good for the patient as recovery is fast and outcomes are equivalent to on pump surgery.
While most of the OPCABG is done through the front (sternotomy), while utilising the MIDCABG procedure Dr Rathore only needs to make a small incision on the left side of the chest meaning the incision is more cosmetic, less invasive, and surgery is done while the patient's heart is beating with the help of vacuum suction stabiliser.
The largest benefit of the MIDCABG technique is for the patients as they will require a smaller number of bypass grafts. The method can be offered to young or elderly patients where recovery can be made quickly. A CT scan is performed post-surgery to evaluate the graft patency.
When asked what prompted Dr Rathore to undertake this method, he said, "As part of continuously evolving as a surgeon, I always try to improve myself to help my patients. I have visited a few centres overseas and am in touch with other surgeons in North America where this technique is done regularly."
"Leaving a small scar after surgery, teamed with early recovery, is the greatest fulfilment for a surgical team," Dr Rathore said.
Dr Rathore is the only surgeon currently performing this ground-breaking technique in West Australian public hospitals. Sir Charles Gairdner Hospital is the leading MIDCABG unit in Australia. This kind of innovative activity that assist our patients and their recovery is what North Metropolitan Health Service strives for.