Congratulations Molly – 2021 Winner of the Lorraine Johnson Preceptor Award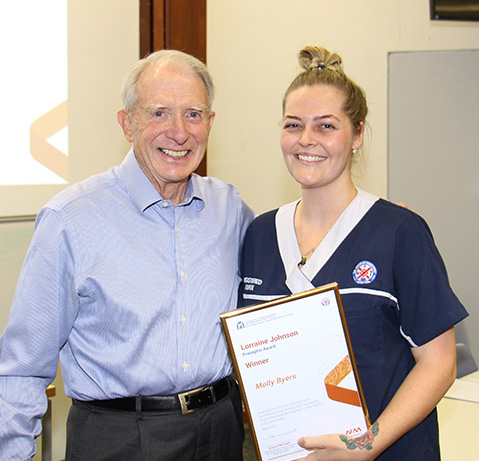 Molly Byers, Registered Nurse (RN) Short Stay Unit (SSU), SCGH has been named the 2021 Lorraine Johnson Preceptor of the Year Award winner.
Molly has worked within the SCGOPHCG service for over three years and currently supports nursing students as an RN preceptor in the SSU. Previously Molly was a clinical facilitator of nursing undergraduate placements.
Her nominators said she is always enthusiastic, happy to see her students, interested in how they are coping, and always supportive. Molly is also a strong advocate for the emotional well-being of students.
Molly works closely with her students, ensuring she spends time, one-on-one to work together with learners to complete clinical tasks to support their ongoing development. She is always mindful to demonstrate best practice and clearly explains the rationale behind her actions.
She communicates openly and clearly with students, conveying care and respect and ensures students are aware of her expectations of them. She willingly imparts her nursing knowledge to others and always empowers them to ask questions.
Molly's students have described her as a great mentor and role model who demonstrates with every patient interaction, what it truly means to be a compassionate nurse and how this impacts the patients we care for.
Her passionate and dedicated approach to supporting learners makes her a worthy recipient for this award.
Congratulations Molly!
About the Lorraine Johnson Preceptor Award
Lorraine Johnson worked at Sir Charles Gairdner Hospital for 20 years and was instrumental in providing ongoing support and education to our student and graduate nurses.
This award was inaugurated 15 years ago and this year there were 24 nominations for the award. The number of nurses nominated each year is testament to the commitment and energy with which the Charlie's Preceptors give to their job in upholding Lorraine's legacy of educating and supporting the new nurses.