Virtual Care ensures equivalent country health support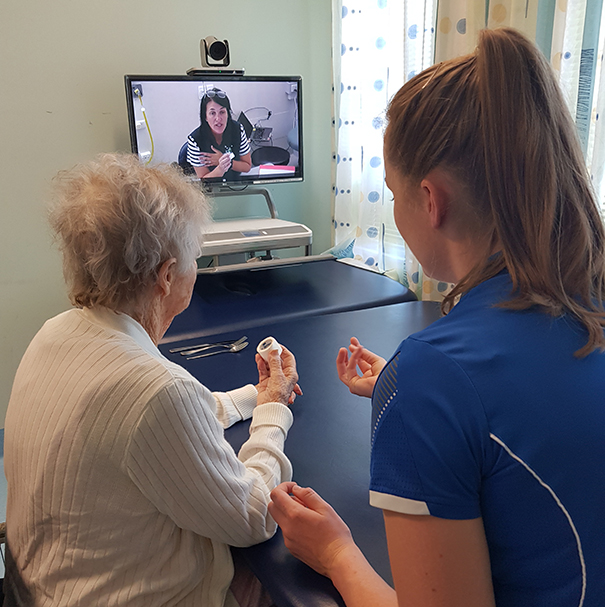 A patient receiving virtual care
A very successful partnership between WA Country Health Service (WACHS) and NMHS used virtual care to support stroke rehabilitation patients admitted at Geraldton Hospital. The program connected with the Osborne Park Hospital specialist stroke unit to deliver virtual clinical treatment sessions with the patient and clinician in Geraldton, with a multi-disciplinary team also involved in treatment.
Designed to improve access to specialist stroke rehabilitation services closer to home for country patients, this scope of work was a trial run for others who could benefit from this virtual care model in the future.
Telehealth enabled individual clinical therapy sessions at Geraldton Hospital, weekly multidisciplinary rehab team meetings, and clinical handover between OPH and Geraldton. The provision of monthly stroke specific workforce education by OPH to WACHS clinicians via telehealth also enabled them to upskill in stroke rehab.
From an OPH clinician perspective, survey results highlighted several important factors:
an increase in confidence using telehealth for clinical consultations,
improved discharge planning for country patients (due to awareness of differences in services and supports available), and
genuine enjoyment in being able to support country patients to receive quality care closer to home.
For the Midwest clinicians, there was 97% agreement that the program enhanced their clinical care.
Key achievements from April 2018 – June 2021 were:
22% decrease in the average length of stay
19% increase ion patients discharged directly home
$234,427 gross avoided costs for the health care system.
The value of this service model and high level of patient and clinician satisfaction has resulted in the Midwest providing service funding from July 2021 (it was previously project / seed funded by the Country Health Innovation program).
Thanks to the team that made this transition to telehealth possible and successful, including OPH Allied health clinicians Jessica Nolan (physio), Rebecca Kingston (speech pathologist), and Kim Keeley (OT).