Celebrating our dedicated staff!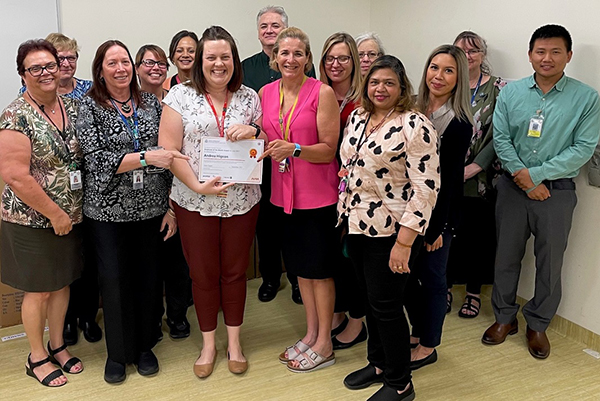 Congratulations to SCGOPHCG Employee of the Month Andrea Higson, Admin Assistant for the whole Patient Support Services team. Andrea was nominated by her manager Linda Davies for the award with a glowing review of her positive approach to helping the whole team.
Described as the 'glue' that holds the whole team together, Andrea is known to always be helpful, professional and kind.
"She is efficient and proactive and is well known for going above and beyond her daily duties," said Linda.
"Because she is so hard working and approachable the whole department benefits from her work ethic; in fact, the entire team can focus on providing excellent service to patients and customers because of Andrea's support."
Andrea clearly demonstrates each of the five values of North Metro and is a worthy recipient of the $150 gift voucher from our generous sponsors.
A special thanks to our generous sponsors: HESTA, Paywise, and Smartsalary.
Congratulations Andrea, your team obviously think very highly of you.
If you've had a great experience with one of our staff members why not put them forward for an award? Next time you are onsite ask how you can submit a nomination.