Minister for Health visits SCGH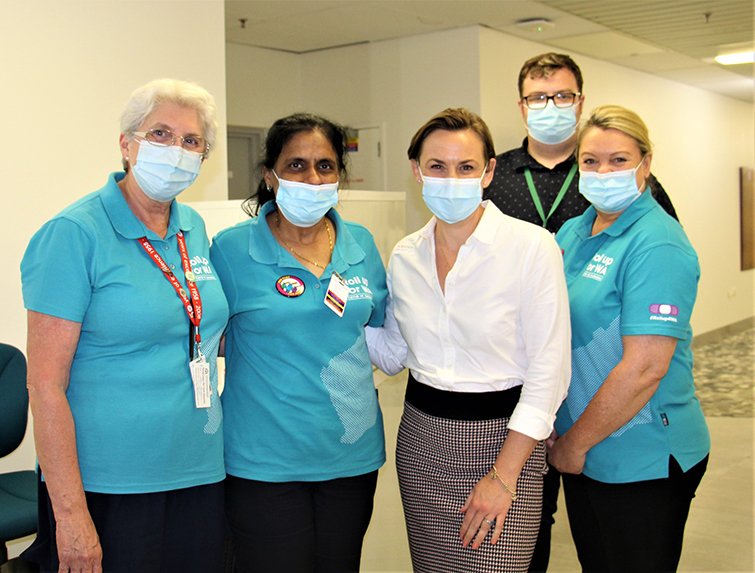 Vaccination team in SCGH with the Minister
Amber-Jade Sanderson MLA, Minister for Health, this week visited SCGH to meet staff and see up close the latest Covid preparations, taking in a wide range of wards and initiatives.
Escorted by Professor David Forbes, NMHS Board Chair, Tony Dolan, A/Chief Executive NMHS and Theresa Marshall, A/Executive Director, the Minister's tour included the ED entrance and green zone, going through the normal Covid questions and protocols with staff and Megan Griffin, Coordinator of Nursing ED. In the ED, the Minister chatted with Support Staff about concerns and was asked for a selfie by a couple of nurses!
The group also walked through ICU and G73 with Marie Slater, Nurse Co-Director Acute Services, and Linda Cruickshank, Coordinator COVID Response, observing how G71 (our Covid-dedicated ward) upgrades are going. Ann Andrews, CNM NMHS COVID Vaccination Program, and her team explained how things were run at the Staff Vaccination Pop-up Clinic on Watling Walk; and Cath Byrne, Nurse Manager COVID Clinic, and Mary Bronson, A/Nurse Co-Director Specialty & Ambulatory Services, gave the latest updates around the SCGH Vaccine Safety Clinic and the Covid Clinic, and took the Minister through C16.
The Minister was happy to discuss a variety of topics and sought information from our experts, who were happy to share insights on SCGH in action. It was great to see the interaction and obvious interest in our staff and systems.