International Nurses Day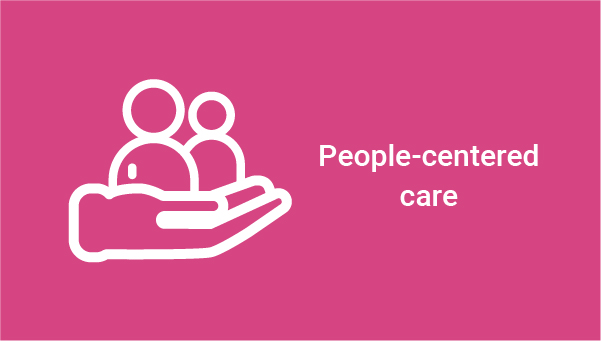 Thursday May 12th is International Nurses' Day and we are creating celebrating our nurses for the amazing work they do.
Along with a video tribute (external site) from patients and colleagues and a raft of compliments, we are sharing the stories of some of our nurses across SCGOPHCG, some very experienced and some just beginning their careers.
Wherever you are, remember to thank the nurse beside you today!
Care Opinion is a feedback website used by patients and their families across Australia, and we are sharing a few of the compliments we have received for nurses (and those who work alongside them) at SCGH and OPH. Reading these compliments, you can really see the massive impact which a compassionate and person-centred approach has on patients and just how much of a team effort it is.
Thank you to all of you!
"I had an ACL reconstruction a few days ago at Osborne Park Hospital. My experience was good but what made it amazing was one of the nurses in the morning/mid-day shift at ward 6. [She] was amazing, she went an arms-length to cater to my needs. Her hospitality and kindness was like no other. Just one word to describe her service, AMAZING."
"Shout out to everyone that looked after me (including patient support, nursing students, allied health and the techs) at Sir Charles Gardiner Hospital on ward G51. Each staff member or student I interacted with were kind, caring, understanding and were willing to have a chat or laugh even if it was at 2am when it came to obs. Thank you each and every one of you for being amazing."
"My GP appointment became an unplanned ambulance trip to Charles Gairdner Hospital. The medics in the ambulance were wonderful and certainly knew their business. The emergency ward was also excellent in their observations and care. I luckily ended up in the Cardiac ward on the 4th floor. The care and interaction were above excellent. The angiogram team experience was unbelievably good - we had a laughing session that left me in a great frame of mind for the test. My special ward nurse was SO thoughtful that I won't forget her. You couldn't ask for more. My very grateful thanks to all concerned."
"I've had to do a one-day colonoscopy procedure at the Osborne Park Hospital at Stirling. The staff were amazing. Honestly I would recommend anyone to go there. Osborne Park Hospital will be my choice if I ever have to visit a hospital. I've had to do a one-day colonoscopy procedure at the Osborne Park Hospital at Stirling. The staff were amazing. Honestly I would recommend anyone to go there. Osborne Park Hospital will be my choice if I ever have to visit a hospital. One happy patient right here, keep up with the good work and keep smiling. Most of all I would like to say a big thank you to my Nurse. He was just an awesome person who loves his job. Well done mate, you are making a difference when around people."
"A student nurse came into my Dad's room to provide care. She was confident bright and engaging. She read my dad very well. All care delivered was with explanation, clear consent and respectful. She and the team supporting her professional development as a nurse deserve a shout out. Thank you."
"Recently I had an amazing experience during my kidney procedure. Starting with my nurse. She immediately put me at comfort and reassured me throughout with friendly conversation and a positive outlook. I then had another nurse in recovery who was equally friendly and reassuring. My doctors were so kind and patient, taking the time to explain the whole procedure and talk me through every step and what to expect. Overall I can only thank and feel blessed to have such caring and kind staff looking after me. Thank you, Charlies."
"Great service from every staff member. All were extremely professional, while being friendly and efficient. Staff were not only professional to clients, but to each other. It was great to see the registered nurse on duty working with the student nurse, being supportive and educative of her. A great team. My brief stay went seamlessly, from the admission process, the wait in Day Surgery Unit (OPH), transfer to theatre, the procedure, and subsequent recovery and discharge. Well done to all."
"I was admitted to ssu for further hip surgery. As usual, I found the process was efficient from front reception through to ssu admission despite the extra covid checks required. Admission was quick and efficient and my nurse and student nurse were friendly and professional. Lots of warm blankets while I waited. I felt the coordinator was fantastic. Got things sorted, was so friendly and everything was done with a smile on her face including escorting me to theatre. Theatre staff as usual were fantastic. From holding bay, all ortho theatre staff (12 I think) and recovery staff who I dealt with, I was very well looked after. A huge thanks to my anaesthetist, after 6 hip surgeries, this was the first with minimal post op nausea. I returned to ssu early evening. I was looked after by the same nurse both on return and the following morning before discharge and overnight by another nurse. Both were fantastic. Friendly, caring, nothing was a bother and made my stay as comfortable as a hospital stay could be. Physio came around the following morning and got me up with crutches so I could be on my way- thank you. My discharge paperwork was completed quickly and once my meds were back from pharmacy I was on my way home. Thanks again to everyone involved in my care. In these ever-changing weird covid times, you guys are amazing. Keep up the great work."
"As a clinical healthcare worker, being diagnosed with an unknown brain tumour post stroke (one tumour bled) is scary enough, but being transferred to a hospital you have never worked at for neurosurgery adds another level of fear in my opinion. I was transferred to ward G52 under the neurosurgical team. I cannot speak more highly of the care, compassion, professionalism and humour, myself and my family received from support staff, nursing, allied health and surgical teams. As a nurse, I also was privileged and humbled to observe the same care provided to other patients, some who were, in my opinion, very abusive by the nature of their condition. The close-knit multidisciplinary teamwork and respect on G52 and the high dependency unit was palpable. Such an incredible team who I believe are a credit to the organisation. I have recovered from surgery, am home from rehab ward and about to commence the next part of my cancer journey. My extreme gratitude goes out to these saints who work in this area."
If you would like to provide us with some feedback, please visit Care Opinion (external site) to tell your story. We'd love to hear from you!