International Nurses Day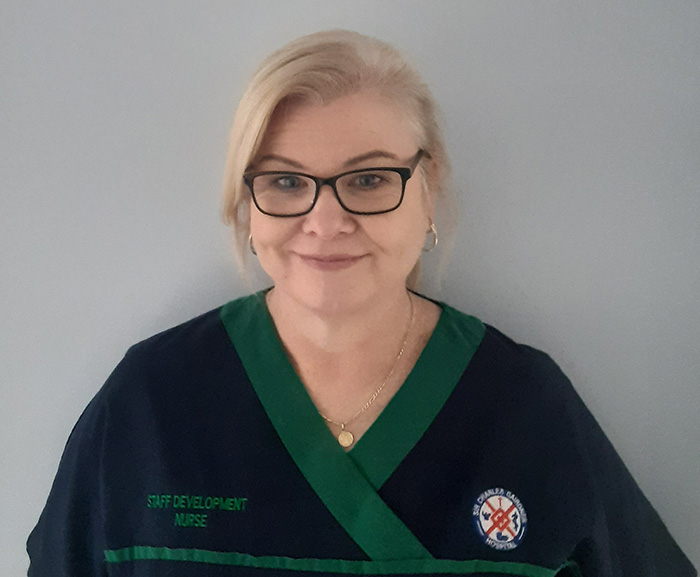 Kate Scorcher Staff Development Nurse
Thursday May 12th is International Nurses' Day and we are creating celebrating our nurses for the amazing work they do.
Along with a video tribute (external site) from patients and colleagues and a raft of compliments, we are sharing the stories of some of our nurses across SCGOPHCG, some very experienced and some just beginning their careers.
Wherever you are, remember to thank the nurse beside you today!
Kate Scotcher started the very first rotation of her graduate program at SCGH ward G61 (Gen Med) in 2006 and completed her graduate program in 2007 on G52. She is now the Staff Development Nurse on G52 and says that becoming a permanent member of the team on G52 and taking on her current role are the highlights of her career so far.
Kate initially worked as a chef and came to nursing as a result of the experience she had when her grandmother suffered a stroke. At the hospital (not SCGH!), the staff were focussed on "just doing their job" and did not provide the level of care and compassion needed by patients and families going through traumatic events. This motivated her to make a change and she enrolled in a Bachelor of Science in Nursing as a mature aged student.
Although she says that nursing is a very challenging professional and there are many hard parts, she says that is also very rewarding. Kate says, "I love the close-knit culture of the staff on our ward. Everyone is always so willing to help each other, despite how busy we all are.
Kate is very dedicated to delivering person-centred compassionate care to patients and says "I want families to know that we are here to help. Don't be afraid to ask."
Her approach has its own rewards, and she says "It's lovely when patients who have been in hospital for so long are well enough to go to rehab, and to have them come back to visit or send a letter saying how well they are doing and how much they appreciate the time spent with us."
The theme for International Nurses Day 2022 is, Nurses: A Voice to Lead - Invest in Nursing and respect rights to secure global health. Kate says, "The pandemic has shown us that even in times of critical disasters, we continue, despite shortages to provide the care that each and every patient deserves. It's heart breaking to think that this is not the case around the whole world. Nursing is critical to wellbeing and should be available to everyone despite geographic location."
Kate received some great advice in her career which helps her to support her own team members. She says, "Remember that you are not alone. We all started out as new nurses at some point. Ask questions, gain knowledge, gain new skills…challenge yourself." To anyone thinking about becoming a nurse Kate says, "Do it! Nursing can be hard, and it can be challenging, but it is so rewarding! I can't image my life without the gift of being a nurse."
Thank you for everything you do every single day to care for our patients and support your team members. Happy International Nurses Day!