The Joy and Benefits of Music Therapy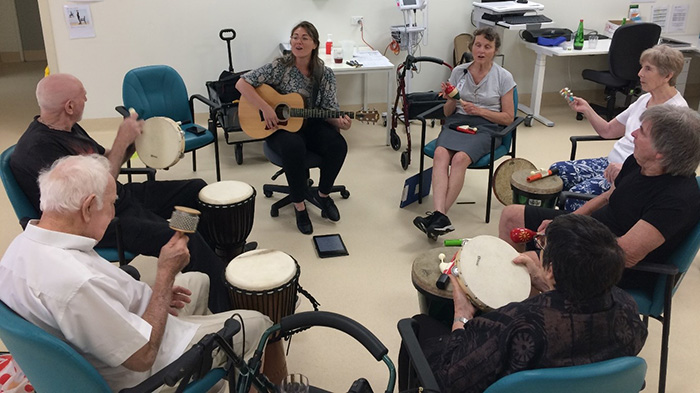 In 2021, Allied Health ran a fundraising effort through the Charlies Research Foundation "Be a Champ for Charlies" Giving Day.
The Allied Health vision was "Returning Quality to Your Life" and one of the projects that was supported through these funds was a Music Therapy program for Geriatric inpatients at SCGH and outpatients in the Parkinson's Disease Clinic at OPH.
Run by Music Therapist Hayley Antipas of Attuned Health, and facilitated by staff at the Clinic, the program recently concluded at OPH with rave reviews.
OPH Parkinson's Clinic is a multi-disciplinary outpatient service which provides specialist care to people with Parkinson's Disease and their carers. The Clinic offered the Music Therapy program as an opportunity for patients to add quality to their lives and increase wellbeing alongside their current treatments.
Music therapy has a range of benefits for clients living with Parkinson's Disease, including improved mood, functioning, self-esteem and engagement in rehabilitation.
Participants with Parkinson's disease reported benefits for speech clarity, cognition and mood and emotional wellbeing. They also reported really enjoying the sessions with comments such as:
"The sessions were great."
"Are you going to run it again?"
The program included professional development for staff, who have already started to integrate music therapy principles into existing programmes.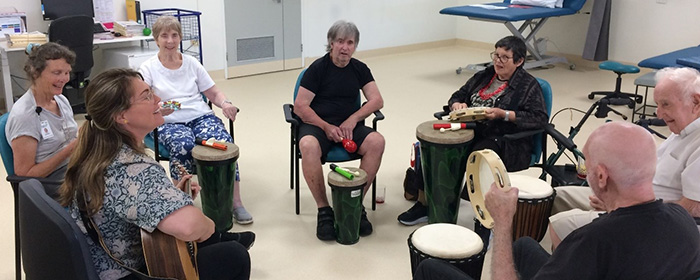 Music Therapist Hayley Antipas of Attuned Health leads a session at the Parkinson's Disease Clinic at OPH