Congratulations Professor Bruce Robinson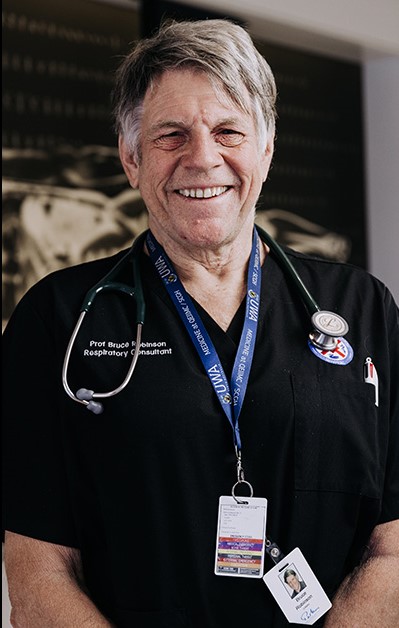 Bruce Robinson
Professor Bruce Robinson, SCGH Respiratory Medicine Specialist and Professor of Medicine UWA, has been awarded the Cancer Council WA Researcher Career Achievement Award 2022.
The award recognises a senior cancer researcher who has a history of significant achievement in cancer research and a strong record of leadership in administration, advocacy, and promotion of cancer research. Bruce has made an exceptional contribution to cancer research locally, nationally, and internationally, with an impressive track record of leadership, mentorship and collaboration.
The outcomes and outputs of Professor Robinson's research program have led to critical and longstanding improvements in terms of disease burden due to asbestos cancers, mesothelioma and lung cancer. It is due to this contribution that Perth is recognised as one of the leading research locations for mesothelioma.
Professor Robinson's ethos of service, his dedication to humanitarianism and his leadership in research and teaching are an inspiration to many. He has won a raft of National and International awards throughout his career, including Western Australian of the Year in 2013 and WA Australian of the Year 2014. He received an Order of Australia in 2013.
Bruce is committed to humanitarian aid internationally, providing both medical assistance in disaster relief efforts and teaching and mentoring through international training and outreach programs.
As well as his research and humanitarian work, Professor Robinson is the founder of The Fathering Project, which has seen hundreds of Dads' Groups formed in schools around Australia. After talking to dying fathers in his clinic who expressed deep regrets about having failed as fathers, he decided to try to help young dads to become better dads. The Project's aim is to improve children's outcomes by inspiring and equipping fathers and father-figures to effectively engage with their kids, which is predicted to have a profound impact on reducing the risks which young people face today.
Congratulations Bruce and thank you for your incredible contribution to our health service and our community.